If you thought the switchover to digital television was going to be a challenge, spare a thought for the regulators, policy makers and engineers who are already tasked with trying to figure out the best way of re-allocating the spectrum freed up by switching off the analogue broadcasting signal.
There are a multitude of possible new uses for the spectrum released by switchover, including re-allocating (or re-gifting) it back to the very broadcasters who previously used it in order for them to deliver HD and other services.
Mobile providers are also launching a campaign to ensure an allocation for mobile TV over DVB-H, or extending 3G and rolling out mobile broadband services. Some countries may even look to allocate the spectrum to defence and/or emergency service uses. Or it could well be a mix of all of the above – although the resource is finite – hence the issue.
It was this re-allocation process that provided the focus for an event run today by Policy Tracker. Unfortunately, I was only able to attend the first couple of sessions – but the roster of speakers for the day looked very strong indeed. I hope that Policy Tracker will look to do more events, if they are of this calibre.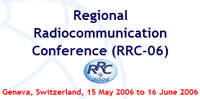 The first two sessions focused mainly on the problems associated with harmonisation. It is essential that adjoining states will have to work together to allocate spectrum, if there are not to be interference issues. The ITU's Regional Radiocommunication Conference (RRC-06) which will be held in Geneva between May 15 and June 16, aims to provide the necessary regulatory framework for national regulators such as Ofcom as they look to re-allocate. This framework will not limit or determine the re-allocation but ensure licence holders meet certain requirements to ensure harmonious use – enforced by national regulators.
It was interesting to note that London's geographical location – and possible interference in parts of France and Holland – will mean that any allocation for DVB-H services will effectively have to wait until 2012. Ofcom have already stated this – but pressure will surely start to mount when other European cities (where there are no associated interference issues) will start rolling out DVB-H mobile TV starting in 2007.
Interesting comments from Roberto Ercole of the GSM Association, who said that mobile providers were currently unsure about how the reallocation process would work. He said that the industry faced three key issues – regulatory uncertainty, not knowing whether mobile TV would come under the same regulations as broadcasting, and the possible fragmentation of markets due to allocations differing across regions.

Of course regulatory uncertainty is same for all those looking to unlock the digital dividend (although some argue that the broadcasters are well positioned because they already sit on the spectrum). Whatever happens its going to be a complex and highly political interplay between policy makers, regulators and transnational organisations such as the ITU.
There is a very difficult balance to strike, ensuring that there is enough incentive for potential users to keep investing and developing technologies whilst also ensuring that the released spectrum will be used in the most productive and efficient manner.
A particularly pertinent question from one delegate – that didn't get an answer – what is that citizen/consumers will get from the re-allocation? Afterall it is citizen/consumers who are effectively having to pay to release the spectrum. Ofcom's initial proposals on the issue suggest that this is a question that they will look to answer – so we'll wait and see.