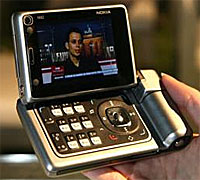 Nokia has announced three more Nokia N series multimedia devices, the Nokia N92 (the world's first mobile device with a built-in DVB-H receiver), the Nokia N71 and the Nokia N80.
All three multimedia -tastic handsets support all GSM bands, 3G, WLAN, corporate email access and advanced voice functionality (including IP PBX connectivity over WLAN), and come with integrated security features.
Nokia N92
Most interesting is the Nokia N92, which has the honour of being the world's first mobile device with a built-in DVB-H receiver, letting users watch and record live TV on the move.
A curious swivelling, flip-top affair, the N92 comes with a large (2.8″) anti-glare QVGA screen supporting 16 million colours and dedicated media keys
The Nokia N92 sports a shedload of functionality for watching and searching for TV programs, with an Electronic Service Guide (ESG) offering information about available TV channels, programs and services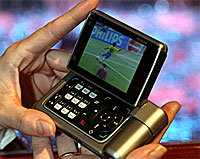 Using the built in software, users can also create personal channel lists, subscribe to TV-channel packages, set program reminders and interact through services such as voting, program feedback and additional web discovery.
For web surfing, the Nokia N92 comes with the new Nokia Web Browser with Mini Map, which displays a semi-transparent zoomed-out view of a web page, enabling users to quickly zip about a large page on a small screen.
Branded as a Nokia XpressMusic device, the handset offers up to 2 GB memory card support, and ships with built-in stereo speakers and stereo headset.
The N92 also comes with a digital music player, FM radio with Visual Radio support (providing interactive information on playing songs and artists) and an onboard 2 megapixel camera.
Connectivity is ably taken care of with Wi-Fi, infrared, Bluetooth and USB 2.0 support.
Based on S60 3rd Edition and Symbian OS, the Nokia N92 is expected to be in the shops by mid 2006 in Europe, with a price tag around €600.
Nokia N80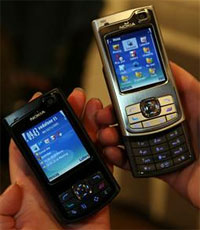 Sporting WLAN and 3G, the Nokia N80 is being touted as the world's first handset to feature UPnP technology, and has the ability to be used as a remote control for wirelessly swapping content between PCs, audio equipment and TVs.
So long as all the gear is compatible, images and video stored on a Nokia N80 can be viewed on a TV, while MP3s on the handset can be played through an audio system.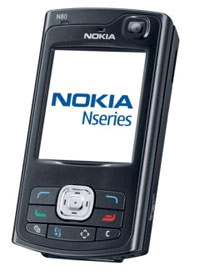 Photos snapped on the Nokia N80 can also be printed wirelessly to any UPnP-enabled printer or photo kiosk.
Nokia N80 is also the first quadband handset designed to work on 3G (WCDMA 1900 or 2100), WLAN, EDGE and four GSM bands (850/900/1800/1900).
The phone features a sliding design with a high definition, 352 x 416 pixels display.
There's a hefty 3 megapixel camera with capture key, full-screen landscape capture, a close-up mode switch and CIF video capture with inbuilt video stabilisation.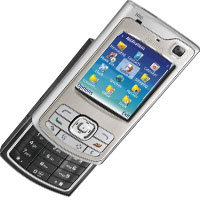 Storage comes in the form of 40 MB of internal memory, with support for miniSD cards of up to 2 GB.
The Nokia N80 has a built in digital music player and stereo FM radio with Visual Radio support.
Available in the first quarter of 2006, the price is expected to be €500.
Nokia N71
Finally, we come to the N71, another member of the Nokia XpressMusic family.
Billed as a "pocket-sized entertainment system", the Nokia N71 comes with a stereo FM radio, support for digital music and videos and new Nokia Web Browser with Mini Map.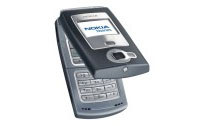 We could only find a teensy-weensy picture of the 3G clam phone as we went to print, but we can tell you that is has two displays and two cameras, one of which is a 2-megapixel camera.
Speaking at the Nokia Mobility Conference, Nokia Chairman and CEO Jorma Ollila bigged up digital convergence:
"We expect the market for convergence devices to double to 100 million units in 2006. Developers, media companies and enterprises are shifting their focus to Nokia's S60 smartphone platform, as they see the business potential of using it to offer content and ensure secure remote access to corporate applications"
"Convergence is opening up a world of opportunities for our customers and partners, and Nokia is committed to developing the tools, solutions and products to make the promise of the digital industry a reality," Ollila added.