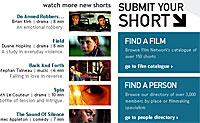 Not satisfied with its already-almighty online presence, the BBC has launched the Film Network – a growing interactive showcase for new British filmmakers, broadcasting three new short films in broadband quality every week.
Around a third of the content on Film Network has been submitted directly and selected by the in-house team, with the remainder coming via partnerships with film organisations or curated programmes of shorts from distributors, festivals and competitions.
Film makers can get feedback from viewers via site tools which allow wannabe critics to comment on and rate films, with filmmakers able to create online profiles and exchange tips, advice and ideas.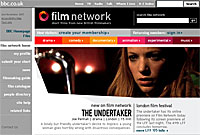 The Website aims to expose new talent and create a platform for some great films that are rarely seen elsewhere.
The Film Network was first trialled by the BBC in early 2005, and quickly found favour with the public, notching up an impressive 1,200 viewings per week for its most popular films.
Suitably buoyed up by the positive response, the full service has launched today, with 50 high-quality shorts being made available, including the eagerly anticipated online premier of Joe Penhall's The Undertaker, starring lovely Welsh boy Rhys Ifans, who also featured in the schmaltzy, hankerchiefs-at-the-ready box office monster, Notting Hill.
It seems that maybe the launch is going a little too well, with the server reporting "too busy" errors this afternoon.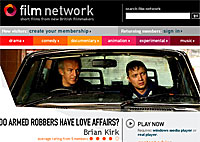 Viewers keen to grab a slice of the free film action will first have to register on the site.
The shorts are streamed in Windows Media or Real Video formats which means that you won't be able to keep a copy on your home PC or transfer them to a video iPod or handheld video player (unless, of course, you employ a streaming media recorder!).
The BBC will be offering a wide selection of content – comedies, animations, dramas and experimental videos – with three new films being added every week.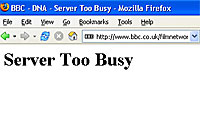 It should be noted that the BBC Film Network is not part of the currently in-trials Interactive Media Player (iMP) service which we reported on in May 2005.