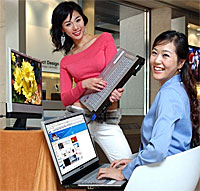 The best thing about Samsung's press photos is that they always feature groups of attractive young ladies deliriously happy to be touching their latest products.
Whether it be phones, TV displays, laptops or detachable screens, you've only got to thrust the product into the willing arms of these beaming ladies and a winning PR photo is ready for the taking.
So when we heard about Samsung's new "desktop and laptop in one" hybrid PC, the M70, we knew we were in for a treat. And we weren't disappointed.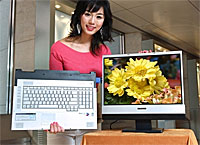 Coming in two parts – the laptop and its detachable 19″ screen – we were confident that we'd be in for double the fun and, sure enough, we were rewarded with happy-clappy shots of two ladies near-ecstatic to be fondling the electronics.
Although we'd like to think that we'd never get quite that excited about gadgets, we have to say that Samsung's new laptop looks like a winner.
Anyone who's used a laptop for a long time will soon get fed up with the uncomfortably low viewing angle, so being able to yank the display off and stick it on a taller stand might certainly do wonders for your posture.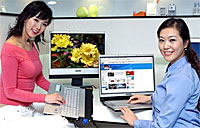 Happily, Samsung have had the nous to ensure that they used standard monitor connectors too, so that the laptop can be connected to a bigger screen (for giving a corporate presentation, for example) – and even the display can be used with a different PC.
This interoperability also means that if the screen packs up on the laptop, you can still use the thing with a cheap desktop replacement. Neat.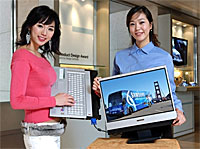 Full technical details, pricing and availability is yet to be announced, but we can tell you that the laptop packs a whopping 19″ WSXGA+ (1680×1050) HDTV compatible screen and is powered by a Pentium M770 (2.13GHz) CPU.
The machine ships with 1Gb of DDR 533MHz RAM onboard, offers 100Gb HDD storage, has high quality stereo speakers and Wireless LAN built in and weighs a shoulder-bothering 4.4kg.