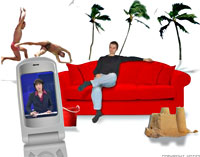 Vodafone has started to roll out its global Mobile TV channels, serving up a feast of "world-class TV brands, pan-European sports coverage and leading entertainment and documentary programmes".
The global Mobile TV channels will be widely available across Vodafone markets from this month and will include big hitting series like HBO's "Sex and the City", "Six Feet Under" and special mobile editions of the old favourite, '24' from Fox.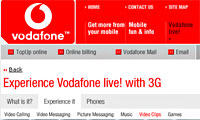 Sports fans will be kept amused on the move with Eurosport, UEFA Champions League and, err, Chilli TV (who?) channels, with the Vodafone service also carrying popular channels like MTV and Discovery.
"With a wide range of 'good for TV' handsets, an intuitive, easy to use service and a portfolio of instantly recognisable television brands and programming, the launch of global Mobile TV is a compelling proposition for our customers", purred Peter Bamford, Chief Marketing Officer at Vodafone.
"Attracting world class content providers, such as Twentieth Century Fox Television and HBO, ensures the premium quality of this product and underpins our confidence in its widespread adoption," he continued.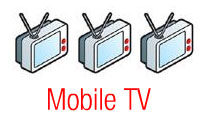 Vodafone say that their research into the market revealed that Mobile TV complemented television viewing habits at home and thus demonstrated a hearty appetite for the product amongst consumers.
Their study found that consumers want well-known TV brands and channels and like to "dip" in and out of television as a way of filling up free time (or skiving from work).
Sourced globally, the TV content will work with any 3G enabled handset and will complement existing domestic Mobile TV offerings in eight of Vodafone's operating countries (namely, Germany, Greece, Italy, Netherlands, New Zealand, Portugal, Spain and the UK) as well as associate and partner networks in Belgium, France, Switzerland and Austria.