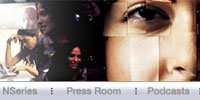 In an attempt to get right on down with the online world, Nokia has unveiled a blog relations campaign for its new N90 phone, offering information and podcasts about the handset to bloggers.
The campaign – dreamt up by the Californian-based marketing firm Comunicano – aims to get bloggers spreading the word about the phone by offering a separate press room ( the 'Nokia Nseries N90 Blogger Relations Blog site', in fact).
The site will offer blog authors, "blogger and media information that you can repurpose and utilise in your blog postings about the N90."
CEO Andy Abramson explained that the campaign was all about treating bloggers like any member of the press – and Nokia were happy to go along with that by dishing out N90 phones to 50 bloggers for review.
"Bloggers are often treated like publicists treat the paparazzi in Hollywood; they're used when they're wanted, or looked at like something at the bottom of the shoe when they're not," insisted Abramson.
Employing more cunning than a crafty fox in a shifty suit, Abramson reckons that bloggers could be the perfect vehicle for drumming up free publicity for a product.

"Since bloggers are articulate, passionate, and prolific – and have more space to write in than a newspaper columnist – they can yield incredible dividends," enthused Abramson.
"If one blogger has a question, there might be 10 others who have the same question," he added.
Although Nokia's press room provides much the same stuff that you can find on their regular website, the company are hoping that bloggers will be find it easier to grab promotional material off the blog site for slapping up on their own sites.
The site itself runs a blog maintained by Abramson and it's every bit as enthusiastic about the product as you might imagine, serving up glowing snippets from bloggers who have reviewed the N90.
Ever keen to tempt users with new content, the new Podcast service invites bloggers to record a Podcast with a 'Nokia Representative' to stick on their own site.
There's already a few examples up there, but we really couldn't bring ourselves to click on the one about a reggae band with the toe-curlingly bad title, "JA..The N90 Is So Cool Mon!"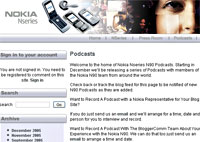 Try as we might, us cynical folks at Digital Lifestyles couldn't shake off a nagging suspicion that the marketing world's new-found enthusiasm for blogs is more about trying to control and coerce what's been written about their products in the blogosphere.
With the explosive growth in blogging – and the increased prominence of blog entries in search engine results – companies are keen to try and manage what's been said about their products, and we see that Blogger Relations Blog could be the start of a slippery slope, with influential blogs being targeted by marketing campaigns.
Companies who follow this type of idea had better take care as they're walking on a tightrope. Bloggers are a canny bunch, and if they feel like they're getting played – they're going to make a whole lot of noise, jumping up and down, screaming about it. Not a pretty sight and definitely not what your brand needs.
Nokia clearly feel there's considerable mileage to be gained from this blogging lark and have already announced plans for similar campaigns for its N71 and N91 series.