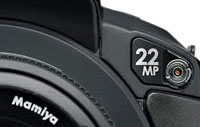 The long, long, long awaited Mamiya ZD medium format digital SLR is now available on pre-order in Japan, with UK delivery promised in January.
With the kind of specifications that would turn your average digital snapper into a gibbering wreck of envy and lust, the Mamiya ZD notches up a whopping 22 megapixels (21.50 effective), with images registering a screen-stretching 4008 x 5344 pixels.
Thanks to its Dalsa 36 x 48mm image sensor, the camera still manages to resemble a beefed-up standard 35mm D-SLR, making it a tempting prospect for both studio and travelling professional photographers.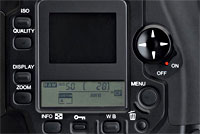 Inside the pixel-guzzling beast lies Mamiya's exclusive 14bit A/D (analogue to digital) converter, enabling photographers to rattle off 12bit images at a nippy 1.5fps (up to 11 images).
That may not sound fast compared to sporty Nikons and Canons, but in the world of medium format cameras, we're talking Speedy Gonzales – and you won't find anything faster in its class.
The Mamiya sports an eye-level Prism Viewfinder (fixed) with a field of view of 98%, with auto-focus using TTL Phase Difference Detection, with photographers able to choose between Average, Centre-weighted, Variable Shot and Spot.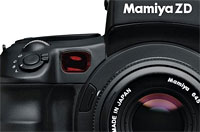 On the back of the camera, a 1.8in LCD offers image previews with a LCD window below displaying ISO and exposure information.
File storage comes in the shape of CF and SD storage cards.
Images can be whizzed across to your PC/Mac by FireWire with the bundled Mamiya Digital Photo Studio software offering what the company describes as a "complete image capture, processing and editing solution in both MAC and PC based computers."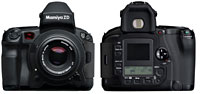 The price is going to hover around an eye-watering €9200 – enormous wonga for some, but it's the kind of figure that may finally tempt die-hard professional film photographers into the digital fold.
Specifications:
Sensor: Full Frame RGB square-structured 48 x 36 mm CCD, 22 million pixels total
Exposure controls: A (Aperture), S (Shutter) priority, Programmed AE, Manual and B, shutter speed: B+30sec – 1/4000 second, x-sync at 1/125 sec.
Capture: RAW and JPEG format, Large, Medium and Small files
White balance settings: Auto, Daylight, Overcast, Shade, Fluorescent, Tungsten, Preset 1, Preset 2, Fine Adjustment, Color temperature setting
ISO 50 – 400 (1/3 steps)
Other: Video out (NTSC/PAL), IEEE1394 interface