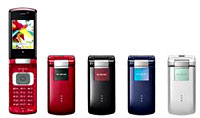 Japan Sharp and NTT DoCoMo will be launching the SH902i FOMA, their funky new 3G clamshell phone in Japan this week.
The sleek swivel-flip phone is dominated by a hefty 2.4-inch, QVGA (240×320) screen which incorporates Advance Super View (ASV) technology.
This limits the viewing angle of the screen to keep nosey Parkers from getting an eyeful of your personal SMS or emails – handy if you like to plot the premature death of your boss in the staff canteen.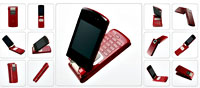 As ever, there's a veritable feast o'multimedia bolted on board, with the all-swivellin', all-flippin', shiny handset coming with an impressive 3.16 megapixel autofocus camera, an MP3 Player and the highly rated NetFront Web browser.
For expansion, there's a miniSD slot available that can read cards up to 1GB.
Because the phone is aimed at the hip'n'groovy crowd, it comes in a range of colours with the usual daft names (Carbon Red, Leather Black, Shell Blue and Glass White).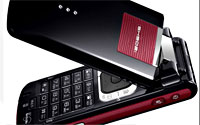 The phone goes on sale in Japan on December 9th with no date set for us technology-starved folks in Britland.
If multimedia-tastic whirring Flash animations in Japanese are your thing, you can find out more about the phone – and spin it around to your heart's content – on the 902i Website