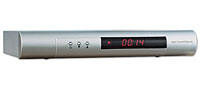 After several years of battling with the clunky interface and weird quirks of our museum-ready OnDigital digital terrestrial television box, we decided it was time to replace it with something a little more contemporary.
With digital broadcast delivery technology moving so fast, we weren't minded to shell out too much for something that may be rendered obsolete by some funky new feature in a few years, so we went looking for a cheap'n'cheerful option.
A quick visit to box-shifting supremos Argos saw our eyes fixing on an ideal candidate: the Wharfedale DV832B digibox.
Sure, it's not much to look at and the plastic case – with its cheap, old-school red LCDs – is unlikely to woo the neighbours, but the feature list was far more than what we expected at the price level.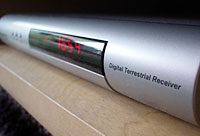 For the princely sum of just £35 (~$62, €52), the Wharfedale offers a digi box with a 7 day electronic programme guide (EPG), digital text, digital interactive services, DVB subtitles, auto scan and setup and 2 SCART sockets.
Suitably impressed, we shelled out the readies and plugged the unit into our home entertainment system.
Once powered up, the unit asks if we want it to automatically scan for stations and after saying "Yes please Mr DigiBox", we were presented with a long list of available digital TV and radio stations.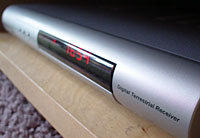 Onscreen menus
As with most digital boxes, you need the remote control to access the key functions with the front of the unit only offering controls for on/off and program up/down.
The onscreen interface was simple, crisply designed and easy to navigate, and proved fairly intuitive in operation.
Using the onscreen menus we were given options to delete channels, rename channels, select favourites, set up to five timers, add a parental lock, choose TV type and set up Over-Air software downloads.
Within minutes of getting the DV832B out if its box, we were skipping channels with glee, pausing momentarily to wonder who on earth watches those dire Bid TV programs.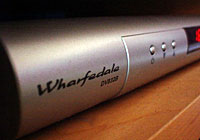 Picture quality
Picture quality was good with no nasty outbreaks of the jaggies to be seen (although we do live within eyeshot of the Crystal Palace transmitter so we can't say how it might perform in areas with weaker coverage), and we found the overall performance to be perfectly satisfactory.
The slimline silver unit (4.8 x 30 x 20.6cm) comes with a simple and straightforward 24-page manual, a SCART lead and a run-of-the-mill remote control (there's no Top Up TV compatibility on board, but we're not complaining at this price!).
Our conclusion
The Wharfedale DV832B provides outstanding value for money, is a thoroughly capable performer and we have no hesitation in giving it five stars.