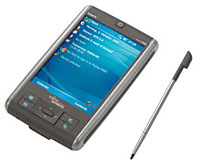 Fujitsu Siemens have launched the "first handhelds with fully integrated GPS functionality", the Pocket LOOX N500 and Pocket LOOX N520 PDAs.
Delivered with Microsoft Windows Mobile 5.0 and optional NAVIGON MobileNavigator 5, the new LOOX models offer an integrated SiRFStar III GPS Receiver for GPS functionality, making them "robust without compromising on design".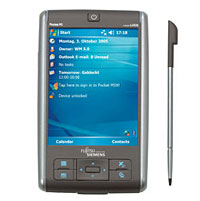 Powered by an Intel XScale PXA270 312 MHz CPU, the devices come with a SD/MMC slot (with support for SDIO), USB 1.1, IrDA and Bluetooth, with the Pocket LOOX N520 offering integrated wireless LAN 802.11g Wi-Fi.
Both units offer a large 3.5″ screen (active area: 53×71 mm) with a resolution of 240×320 pixels, 64K colours and 10 levels of backlighting brightness, supported by 64Mb RAM and 64Mb flash memory (LOOX N500) and 128Mb (LOOX N520).
The attractively finished silver and slate grey LOOX devices come with a removable Li-Ion 1200 mAh battery which should provide something like 16 hours of MP3 playback.
A new Persistent Memory feature has also been added, providing secure storage for programmes and documents when the power gets low.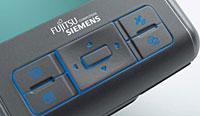 There's also a ton of Fujitsu Siemens-branded applications bundled in the package, including Voice recorder, AudioPath and Key Look, along with a Microsoft Mobile suite including Excel, Power Point, Outlook and Internet Explorer.
They're not the smallest PDAs on the market, with pocket-straining dimensions of 116x71x14 mm (bigger than the previous LOOX 420 model) and a weight of 160g, but they do come with a cool blue illuminated keypad and base station with headphones.
Both handhelds are available now from £239.00 (~US$434, €351~) and £259.00 (~US$459, €381~) respectively (excluding VAT).