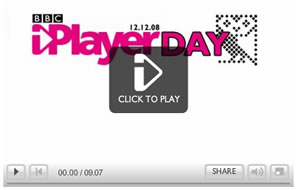 If you hadn't noticed(!), today is iPlayer day.
The BBC Internet blog is covered in posting from various of the BBC bloggers, so many, that they run way over the front page.
Anthony Rose, Controller, Online Media Group and Vision, Future Media & Technology (blimey he must have a wide business card!), who oversees iPlayer, has recorded a video (not surprisingly playing in an iPlayer viewer).
He goes over his history with iPlayer and then projects forward into features and functions that he'd like to see incorporated into iPlayer in the future.
iPlayer 3, as it's being labelled, will be available Q1 or Q2 in 2009 and will incoporate social features.
Continue reading iPlayer 3: New Social Functions Outlined For Q1-Q2 2009