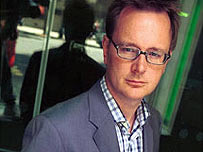 How wrong The Times are in their piece praising Ashley Highfield, entitled "Business big shot: Ashley Highfield."
To label him as the man behind the launch of the BBC iPlayer, misleads their readers.
Ashley might have been the person who stood himself up for interviews, giving the impression that he was the man behind it.
The real accolade for originating the concept of iPlayer and carrying out the original work behind iPlayer falls to Ben Lavender, someone no longer at the BBC.
Ben came up with the idea for iMP (internet Media Player), as iPlayer was known originally, over the xmas period of 2002 and pursued it pretty much single handedly up to the point where we saw it at IBC2003, where we introduced the Digital-Lifestyles theme into the IBC conference programme.
It's not uncommon for people at the top of departments to bathe in the glory of the hard work of the people working within their setups.
Sadly, some of those people do very little to try and set the story straight, being content to receive the praise.
Kangeroo
Ashley has now moved himself into the position of CEO of Kangeroo and it will be interesting to see how he gets on in the role.
A common comment that we have heard from the people that have worked under him is that he's very good at managing upwards (ie keeping his bosses happy) – less successful in keeping the people under him content.
Being the boss of the organisation means that he doesn't have anyone above him to keep happy. Quite where that places the people working for him will provide interesting watching.
Good luck Ashley.