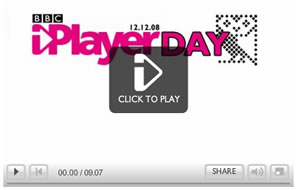 If you hadn't noticed(!), today is iPlayer day.
The BBC Internet blog is covered in posting from various of the BBC bloggers, so many, that they run way over the front page.
Anthony Rose, Controller, Online Media Group and Vision, Future Media & Technology (blimey he must have a wide business card!), who oversees iPlayer, has recorded a video (not surprisingly playing in an iPlayer viewer).
He goes over his history with iPlayer and then projects forward into features and functions that he'd like to see incorporated into iPlayer in the future.
iPlayer 3, as it's being labelled, will be available Q1 or Q2 in 2009 and will incoporate social features.
TimeTagging
One of the more interesting ideas is to set bookmarks within programming, allowing people to jump directly to the point of the programme that is being discussed.
Not a new idea in itself, but it's innovative to bring it to a mass market.
Twitter-clone incorporated?
These programme tips will be passed around in what sounds a lot like a Twitter-clone, built in Adobe Air, letting friends / groups share programme suggestions that they have seen on iPlayer.
Navigating and especially finding new content on an ondemand video service is a major problem when a lot of content is avalable. Potentially users of the service can find themselves spending more time seeking which content to watch rather than actually watching it.
Random recommendations from third parties potentially opens all content wide open. A smart solution.
Have a watch of Anthony Rose yourself …
Follow other iPlayer Tweets on #iplayerday