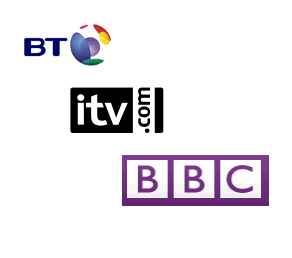 The BBC, ITV and BT have announced a proposal to create an "open environment for broadband connected digital television receivers."
It's an initiative open for all UK public service broadcasters, device developers and other ISPs, which they hope will lead to a new generation of subscription free devices, carrying free to air channels and a huge selection of on demand TV services like iPlayer and ITV Player, as well as the potential for films, shows and interactive content from a range of other providers in standard and high definition.
The top knobs at all three companies lined up to say something about it.
Mark Thompson, Director-General of the BBC: "I am pleased that the BBC is working with industry partners such as device manufacturers, ISPs and other content providers on proposals which will bring real benefits for consumers."
Michael Grade, Executive Chairman ITV: "This proposal will bring catch-up from the PC to the TV set in your living room, and all for free. This makes convergence a reality. It will also future-proof our free-to-air platforms, Freeview and Freesat."
Ian Livingston, CEO, BT: "We are looking forward to working with The BBC, ITV and other internet service providers to support an open standard for the free to air market in the UK."
Comment
BT has tried to get the UK public to sign up to BT Vision, but without the numbers that they had hoped. This gives them the perfect way to achieve what they've been trying with it – getting people to sign up for broadband.
ITV have seriously fallen behind with their ability to deliver TV online, by betting too much on the Microsoft's over-controlling DRM. Their shift to Silverlight yesterday, should allow them to gain more viewers, but not nearly as many as would have happened if they'd have just gone for Flash – the universal standard. Currently unclear if they'll have to shift to Flash-delivered video to take part in this project.
BBC remit is to have their content distributed as widely as possible, so this is a good move for them too.