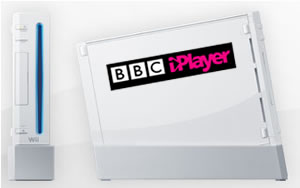 BBC iPlayer is further expanding the hardware platforms that it's available on – the last was a troublesome iPhone launch.
The latest is the Nintendo Wii, announced today, bringing the advantage that the iPlayer content can be viewed on a 'normal' TV, rather than on a computer screen.
Owners of the Wii need only get the Internet Channel addon package running on their Wii (cost £3.50), and they can browse to the BBC iPlayer site. Once a favorite archived TV programme is located, simply hitting the Play button will have the show streaming to your machine.
All of this Wii-playing is made possible by the Wii having a Macromedia Flash 7 player on-board. Flash 7 uses Sorenson Spark codec rather than the ON2 VP6 codec introduced with Flash 8.
Content encoded for Flash 7
The BBC has taken it upon themselves to encode and extra 400 hours of video per week into Flash 7 format, letting the Wii have access.
It's of note that the lower performance of the Sorenson CoDec requires the video to be encoded at a higher rate to match the viewing quality of Flash 8. Brought down to numbers, this means Flash 7 video is encoded at 820kbps, rather than the usual 500 kbps.
Anthony Rose, who heads the project, says on a blog entry that if the Wii-player is popular, they might write an iPlayer dedicated to getting the bext performance from the Wii.