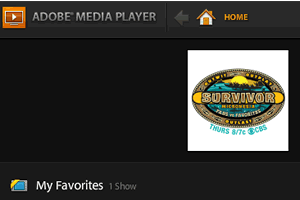 Adobe have launched a stand-alone Media Player (AMP).
Using Adobe Air, the AMP plays back high quality video both on PCs and Apple computers at standard def and 1080p.
As well as giving a new way of watching Flash video content outside a Web Browser, it also brings together 'channels' of content from content owners.
Having their own player gives Adobe the opportunity of becoming a content aggregator, rather than just the company that provides the technology to deliver and view the content.
The functionality appears much the same as the BBC's iPlayer, but with added advantages welcome features like when you stop watching a video, you're able to restart watching where you left off last time.
In the words of John Loiacono, Adobe's senior vice president of Creative Solutions, "With Adobe Media Player, we're bringing viewers and content owners closer together, with an experience that doesn't constrain them by platform or proprietary software application."
Clearly keen to talk up it's capabilities, Loiacono continued, "It's a merger of TV Guide and DVR for Internet video content. Some great shows, like The Hills from MTV and CSI from CBS, is already available to view and more will be coming soon."
DRM too
One big difference with the AMP is that the content can be protected with them giving three examples, "protected streaming, advertising protection and video DRM protection."
Providing the AMP is a great way of getting Adobe Air installed on a lot of machines, something that will be important when more Air-based applications start emerging.