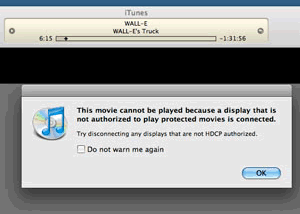 It's looking like Apple has built copy protection into their new laptops, without bothering to tell prospective purchasers about it.
The currently Apple-faithful who have bought the new laptops, including the MacBook Pro and MacBook Air, are finding that if they try to play films – that they have legitimately rented through Apple iTunes Store – through a non-HDCP external screen or projector are begin met with a message "This movie cannot be played because a display that is not authorised to play protected movies is connected."
Not surprisingly this has angered them a great deal – and quite rightly in our view.
Given how Apple go to a great of effort in launching their products to the world, we think it's pretty disingenuous not to mention that the laptops that are being bought have High-bandwidth Digital Content Protection (HDCP) built into them.