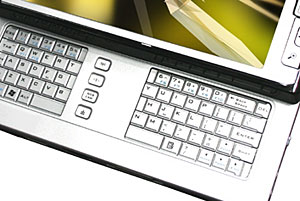 Sporting rather pleasing modern silver lines with a black edge, Gigabyte's new M704 is the latest addition to the growing mob of Ultra Mobile PCs ('UMPC') being foisted on the public by a host of manufacturers.

Gigabyte's effort sports a split, slide-out QWERTY keyboard, a seven-inch WXGA (1,024 x 600) LED-backlit touchscreen and a 1.3-megapixel CMOS camera, powered along by a nippy 1.2GHz VIA Esther ULV C7 processor.
Graphics are taken care of with a VX-700 chipset, and there's a choice of 40GB/60GB hard drives backed by a multicard reader (SD/MMC/SD-IO) and a VGA outpout for hooking up a projector for some PowerPoint action..
Connectivity options come in the shape of two USB 2.0 ports, 10/100M ethernet jack, VGA output, 802.11 b/g Wi-Fi and, we assume, Bluetooth (we couldn't find this on their product page but, then again, it was all in Taiwanese). GPS would have been a nice touch too, but that looks to be absent.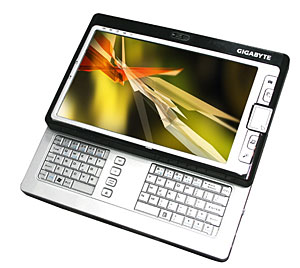 The onboard Li-ion battery offers a disappointing three hours, with the little fella running Windows Vista Premium and measuring 190(W) x 120.8(D) x 30.3(H)mm and weighing 780g.
There's no news on availability or pricing yet.
Specs
VIA 1.2GHz, 7″ 1024×600 with LED backlight.
CPU: VIA Esther ULV C7-M (1.2GHz, 400/800MHz, 128KB/128KB L2)
OS: Windows Vista Premium
Chipset: VIA VX-700
Memory: DDR2-533, 768MB
LCD: 7" TFT-LCD WXGA, 1024×600, with LED backlight
HDD: 1.8″ with 5400 RPM,40 or 60 GB
CAM: 1.3M pixel CMOS web-cam
Wireless: 802.11 b/g
Card reader:SD/MMC/SD-IO
USB 2.0: 2 ports
VGA output
DC in connector
stylus
expansion port(including 10/100M ethernet jack)
Battery: 2 cells,3900mAh/cell, 3 hrs
Dimension: 190(W)x120.8(D)x30.3(H)mm
Weight: 780g