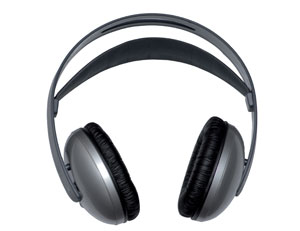 Hauppauge have announced the availability of their new wireless 2.4Ghz headphones called 'the XFones,' sporting "Dolby Headphone" technology.
Looking a bit like the headsets worn by those blokes who wave those funny sticks about when a plane is taxiing (airport workers, not lost ravers), the chunky silver headphones pack a tiny USB transmitter offering a 10m range

"XFones are the ultimate audio addition to an entertainment PC," enthused Yehia Oweiss, Hauppauge Digital's Vice President of Sales EMEA. "They have the widest dynamic spectrum to maximise audio enjoyment, appealing to the PC users that demand the best experience from their multimedia applications."
Well, we demand the 'best experience from our multimedia applications' although we're not sure if we'd fancy strutting about the office with these things on our bonce.
Of course, people who need to work in a quiet environment will appreciate the cable-less 'cans, which weigh in at 260g (without batteries) and offer "ear-hugging padded cups" sporting 40mm drivers.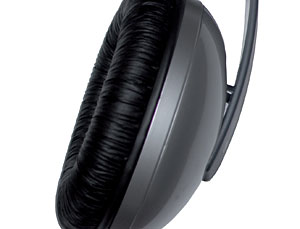 Some techie stuff
The "Dolby Headphone" stuff is Hauppauge's patented technology that claims to 'decode Dolby Digital 5.1 and plays it through the Xfones the way it was encoded in the movies'.
The XFones use 2.4Ghz RF transmission, knocking out data at up to 6mbit/sec with support for AES/EBU, IEC60958, S/PDIF consumer formats for stereo PCM audio and AC-3 data stream by S/PDIF output.
Powered by three AAA alkaline batteries – with a claimed battery life of 10 hours continuous use – multiple XFones can be used together for multi-player games or – rather improbably – by the "whole family to enjoy a movie or listen to a concert together."
The headphones enjoy 'plug and play' functionality with Windows and Mac and should be available online and in store by the end of the month for around £80.