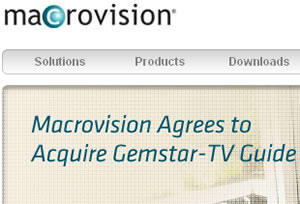 Macrovision, content protection company, has agreed to purchase TV listing company, Gemstar-TV Guide International in a cash and stock transaction with a value of approximately $2.8 billion.

The merged companies will have combined "solution portfolios," (you what?!?!) to, in their words, "enable extensive libraries of commercial and personal protected content to be accessible on numerous devices through simple and intuitive guides."
An example they provide for usage is, consumers will be able to pull up a guide on their TV and receive personalized content and information regarding their favourite TV shows, read movie reviews before purchasing or renting a film, view personal photos, or tap into their music library.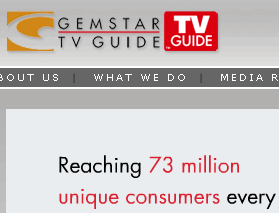 Open?
They also go on to say that their combined strategic objectives have been to build and integrate open technology, content protection and distribution offerings that enable the delivery of digital media to consumers across multiple platforms and channels.
As far as we knew, there's very little Open about the companies offerings currently, so it's unclear if they're planning to radically alter their products … or if they're simply jumping on the Open bandwagon.
Who owns it
It's of note that News Corporation currently owns approximately 41% of the Gemstar-TV Guide common stock and has agreed to vote in favour of the transaction.
Upon completion of the transaction, the Macrovision stockholders will own approximately 53% of the combined company, and the former Gemstar-TV Guide stockholders will own approximately 47%. The deal is expected to close by early second quarter 2008.