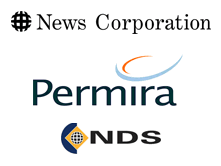 NDS, a DRM, PVR and interactive TV company, will be taken private, away from its current public listed status.
News Corporation currently owns approximately 72% of the equity and a stunning 96% of the voting power of NDS through its ownership of 100% of the outstanding Series B shares.
Approximately 67% of the NDS Series B ordinary shares held by News Corporation would be cancelled in exchange for $63 per share in a mix of cash of approximately $1.52 billion and a $242 million vendor note.
Private Equity company, Permira Advisers, will be taking it private.
Murdoch's influence
The relationship between Rupert Murdoch's New Corp., owners of Sky TV, has sealed NDS's success.
You only have to look at their Press Release page to see quite how many contracts with various Murdoch companies around the world they benefit from – FOXTEL; SKY New Zealand; Tata Sky. The list goes on.
If NDS were to lose that, their lives would be quite different, but as News Corp will end up with 49% of the shares, it's unlikely for this to change.
Now NDS has performed its primary use — to provide News Crop with a DRM system that they're happy with — it is no longer core to their needs.
NDS, News Corp and the Failure of TiVo UK
While News International was negotiating with TiVo to tie up their entry into the UK, leading to TiVo's total failure in the UK, they were also very closely involved with NDS.
It's to TiVo's shame that their Due Diligence hadn't brought the NI / NDS relationship up, or didn't act on that knowledge.
NDS, A Tough Company
Having deal some with NDS, my experience was that of an organisation that doesn't like it when they don't get their way.
First charm is used, then, when that failed, aggression.
Perhaps that's why they've done so well in building the company up?