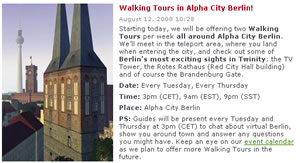 Twinity, the virtual-world based in the real world, is continuing to offer more attractions to the users of their Alpha City, Berlin.
Adding to their list of events, which has previously included a Bitropolis digital film festival and digital art shows, they're now offering walking tours around the virtual Berlin.
A fab idea for those who don't know that great city, or wanting to get to know it better.
It's going to be a regular event, with two walking tours a week showing some of the cities highlights.
Well-known items on the list include TV Tower, the Red City Hall and of course Brandenburg Gate – all rendered in their virtual grandeur.
Get yourself over to Twinity on Tuesdays and Thursdays.
If you haven't joined Twinity yet, we running a chance to win a Twinity invite.