We all know how popular virtual worlds are, with the best known examples being Second Life and World of Warcraft.
These worlds are all very well, but they're set in a fictional world. Not a bad thing for many people, but some players will hanker for more reality.
Get Real
This is where Twinity comes in. Twinity plan to accurately model cities from around the world and they're starting with one of our fave cities, Berlin.
To be specific, the Hackescher Markt district of Berlin (Google map link). It's a fantastic part of a great city, covering over six square kilometres, where many friends of Digital-Lifestyles live and we stay there when we can.
Are virtual real worlds a good idea?
It's obviously not just us who think it's a good idea. Back on 1 April (no, it wasn't an April fool), Twinity's developer, Metaversum, received what they describe as "a significant multi million Euro investment" from Balderton Capital, the VC firm previously known as Benchmark Capital Europe.
Metaversum founders, Dietrich Charisius, Jochen Hummel and Mirko Caspar have been pretty patient in seeing their company grow, given that they formed it in July 2006.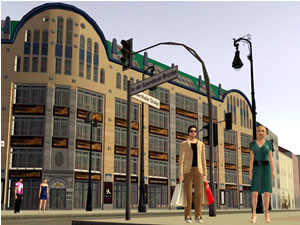 Real virtual city history
We remember with fondness the release of action video game The Driver, where the big hook was that its developers had modelled the streets of London into the game.
Those playing it could tear around London street, brandishing shooters and getting 'well lairy.' After extensive research (ie playing until our thumbs bled), we can attest that they did a pretty accurate job.
Possible issues
A virtual world set in a real world will bring some interesting issues – even more interesting will be watching how Metaversum deal with these.
Conflicts between the inhabitants of a virtual world and those running it have often led to a few dust ups.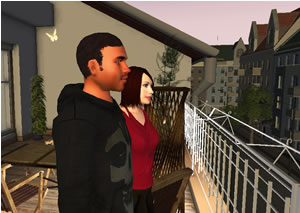 We wonder if the blindfolded attitude of those in the real world — a desire to live where lots of rich people are (London Chelsea, Mayfair, etc) — continues in these virtual cities, given the ability to re-write the 'rules.'
Another interesting area for consideration is if, as the game become more populated, will there eventually be the same lack of housing that burdens the physical world, duplicated in the Virtual world?
Will people play the game, just to be come familiar with a city before they visit it, feeling familiar with the place before arriving?
Lots of yet to be discovered answers … and questions … remain to be revealed.
We await developments with this with interest and are looking forward to dipping our toes into Twinity.