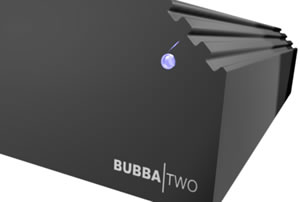 If you're looking for a server to centralise your data on to, but don't need to go as far as a NAS – or indeed don't want to have the noise that normally come with a NAS, you might want to take a look at Bubba Two.
It's a stylish, silent mini server that can current host up to 1TB of storage, with further expansion possible.
The lessons that Excito — the company behind it — learnt from their first product, Bubba Server (which sold in over 25 countries) have been incorporated in to the Bubba Two.
The processor has been upgraded, and it now has boosted external connectivity – Two 1Gb Ethernet connectors and two 480 Mbit/s USB ports.
Johannes Book of Excito tells us that all of these changes will provide speed improvements of a factor of between 5 – 10 times over the previous model.
Other upgrades from the last model are the inclusion of a firewall, router, DNS server and DHCP.
With an eye on green issues, they've also dropped the power consumption to 7-12W, depending on which disc is fitted.
'Silent' operation
The Bubba Two doesn't have a fan or any moving parts beside the hard drive, so it's just about as quiet as can be.
Johannes tells us they always add the quietest drive available, which he says is currently the WD Green drives, which runs at 25 dB.
Excito work some magic on it and brings this down to 23dB.
If all of this talk of dB is getting you scratching your head, here's some guidance – 25 dB is the average background noise level of relatively quiet home, so pretty much silent to the ear.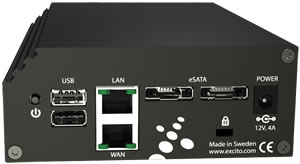 Storage expansion
For the first time, two eSATA ports have been added, giving a chance to boost storage, which following a free firmware upgrade, will give RAID 1 support, providng peace of mind for your data.
More functions coming soon
Johannes was keen to stress that development of the firmware will continue, bringing additional functions, including Squeezebox Streaming support.
WiFi support is another planned upgrade, but this time via a pay-for hardware upgrade. It will provide Access Point (AP) functionality and is expected to be releases in 2 – 3 months.
Cost & Availability
The Bubba Two is available in small quantities from August at prices from €288 for the add-your-own-drive option.
There are currently three drive options – 80GB (+€32); 500GB (+€64); 1TB (+€139).
The other option is to add your own drive — it won't work without a drive — although leaving it in their hands might keep it as quiet as possible.