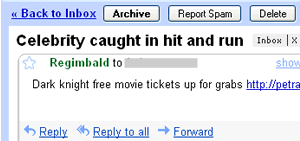 In an ever-evolving story, Spammers are starting a new form of spam – News Spam. Email's that look like they're news stories but are indeed spam.
We've seen a couple of them so far, so suspect that there will be a lot more arriving soon.
Rather than offering your p0rn or various forms of tablet that purport to increase you virility – these messages lead with an email subject that looks like it could be a news story.
News-like headlines
This is clever in two ways, it gets around spam filters and could well draw the attention of receiver of the email.
The two that we've seen use celebrity related headlines, perhaps because they know if people are interested in celebrities, they could well susceptible to clicking on spam links.
Examples include …
Nicole Kidman loses baby in miscarriage
Celebrity caught in hit and run
… both pretty gory too.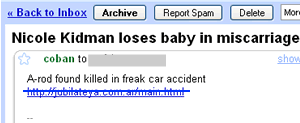 Very short emails
In the mail itself is only a very short message with a link to an external site.
Naturally, we haven't clicked on the links in the mail — that would just be foolish — but it wouldn't be surprising if the Web page that you're directed to will hijack your browser and stick some nast software on there.
The message – as always with emails that you don't know where they came from – don't click!