Virgin Media have announced that they are to boost the top speed of their 'XL' cable broadband offering from 10Mbps to 20Mbps, starting in May.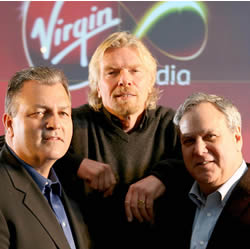 The upload speed will also be upped to 768Kbs, not exactly setting the uploading world alight, but better than a poke in the eye with a stick, non?
While getting people excited about this, they're also raising the price of their top service by £2 to £37/month.
They're claiming it "will make the XL broadband service the fastest (widely available) home internet connection in Britain," which is questionable, depending on your definition of "widely available."
UK Online and Be Unlimited have been offering 22Mbps and 24Mbps broadband services (respectively) around the UK since the end of 2005, although Virgin Media has a wider reach than them. Both UK Online and Be Unlimited rely on their equipment being installed at the telephone exchange.
To us, these speed increases make it sound like they're getting ready to start offering other IPTV/VoD-type services.