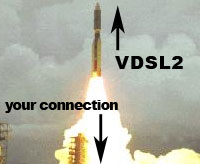 After demonstrating that high-definition television over copper was achievable through networks with increased bandwidth capabilities and compression techniques, France Telecom is looking to develop the technology and is currently testing VDSL2 transmission systems in its R&D Laboratories.
The technology is based on DMT modulation, like ADSL and ADSL2+, and was dreamt up in the quest to enable data transmission speeds of up to 100 Mbps using standard telephone cables.
These super fast speeds were achieved by extending the frequency band to 30MHz.
In their quest to bring super fast connections into the home, France Telecom has been working with international DSL standardisation bodies and after evaluating various technologies, they have managed to successfully test VDSL technology.
The company is now conducting lab tests of VDSL2, based on the xDSL family.
The explanation for how this works is way too hard for my hungover head to work out, so I'm sure you'll excuse me if I quote from the press announcement instead:
"VDSL technology, which is an offspring of the xDSL family, features the possibility of supplying, through a fiber optic connection, the sub-cross-connected equipment with high transmission rates, which are then distributed to customers using cross-connect specific DSLAM equipment and the copper pair."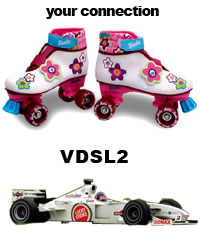 All clear on that, now?
The current testing is also intended to evaluate the feasibility of future services for home and business use, and a demonstration scheduled for today will showcase some of the initial applications for this technology.
This will include the simultaneous delivery of two high-definition television streams, i.e. (MPEG-4) and one simple definition stream (MPEG-2), a high definition videophone and an FTP file transfer at the scorchio rate of 40 Mbps.
That FTP transfer rate works out at twice as fast as is possible using currently deployed DSL technologies, and would make it possible for someone to download a 90 minute film in just three minutes.
We should point out that France Telecom were at pains to say that the 90 minute film in question would only be downloaded from "a legally authorised Website" because, as they are compelled to remind us, "Piracy has a damaging effect on artistic creation."
The company will be presenting this new technology to the media today, at the France Telecom Jardins de l'Innovation at Issy-les-Moulineaux.