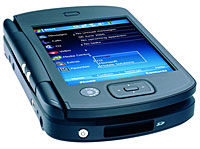 O2 has announced the launch of the o2 Xda Exec, the first PDA and mobile phone combo device to feature 3G.
Touted as a laptop replacement with a built-in 62-key QWERTY thumb keyboard, the handheld is also the first to incorporate the brand spanking new Windows Mobile 5.0 operating system.
Manufactured by the Taiwan based HTC, the phone is also sold as the HTC Universal, T-Mobile MDA IV, Vodafone VPA IV, Orange SPV M5000 and Q-Tek 4040.
Bedecked in a custom smart black finish, the o2 Xda Exec sports a large 3.6″ 640×480 65k transflective colour backlit LCD which can be swiveled around to let the device be used as tablet or as a mini laptop.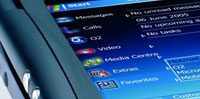 Reflecting its business focus, the phone comes with Pocket Outlook, Word, Excel, Powerpoint and PDF viewers pre-installed and offers Bluetooth, Wireless LAN, 3G and tri-band GPRS connectivity.
There's a 1.3 megapixel camera (1280 x 960) with built in flash onboard and a second CIF camera for videocalls.
Russ Shaw, Marketing Director at O2 was ready to froth up the product: "The O2 Xda Exec takes the Xda range to the next level, giving busy professionals the ultimate mobile experience.
The laptop style keyboard combined with the responsive and intuitive operating environment make this device easy to use and an effective laptop replacement for when people are out and about.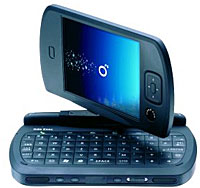 Combined with our service bundle, we believe that the O2 Xda Exec will build on the success of the Xda range, extending our market share still further into 2006."
Much as we'd love to enjoy the "ultimate mobile experience", the o2 Xda Exec doesn't quite do it for us.
Sure, it sports a mouth-watering feature list and looks way cool in its super-sleek black finish, but that trouser-bulging bulk means we'll be sticking with our less capable iMate JAM for now (but, there again, we're not the swivel-action execs that the phone is aimed at.)
The o2 Xda Exec is available from £399.99 (~$730, ~€593) for pay monthly contract customers and will be available in UK O2 stores and other leading distributors.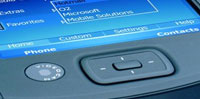 Technical stuff:
OS: Windows Mobile 5.0
Intel XScale PXA272 520MHz
128MB Flash ROM, 64MB RAM
3.6″ 640×480 65k transflective colour backlit LCD
up t8/4/15/250 GSM Talk/3G Talk/PDA/Standby time
GSM Tri-band (900/1800/1900), UMTS Single-band (2100)
GPRS class 10, UMTS 64/384
Bluetooth 1.2, Infrared and mini-USB connector
Wireless LAN 802.11b
SDIslot
3.5mm AudiConnector
StereSpeakers
Integrated camera (resolution 1280 x 960) with LED flash, 2nd CIF camera for videcalls
Integrated antenna
15 buttons (Answer, Hangup, Backlight on/off, OK, Start, Camera, Power, VoiceRecord, 5-way navigation pad
62-key QWERTY keyboard with light sensor tauto-adjust the screen and keyboard backlight
Removable battery (1620mah)
Weight: 285 grams