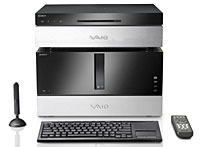 Sony are keen for us to 'redefine' our living rooms with the release of their new VAIO XL1 Digital Living System, a twin box offering combining a high-end multimedia PC with a 200-disc media changer/recorder.
Clad in natty silver and black casings, the combo runs on Microsoft Windows XP Media Center Edition 2005 and connects to a television via an HDMI cable, outputting high-definition video and multi-channel digital audio in a single connection.
Boasting unique functionality as the result of a "close collaboration with Microsoft", discs inserted into the changer are automatically detected by the PC which connects to the Web (via wired or wireless network) to download any available metadata, including jewel case covers and artist information.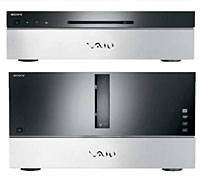 A similar process takes place for movies, where an in-depth synopsis and star, cast, director and producer details etc are automatically downloaded and made accessible onscreen through the included wireless keyboard or remote control.
Sony has innovated once again by introducing a product that is a monumental step forward in defining the way consumers enjoy digital entertainment," insisted Mike Abary, vice president of VAIO product marketing for Sony Electronics in the US.
"With the XL1, users can still manage all their meaningful entertainment content such as downloaded music, home movies and personal photos. But the really groundbreaking functionality is the additional ability to easily organize, sort, and access packaged content – all of the DVD movies and audio CDs that have been traditionally relegated to a bookshelf," he added.

There's no denying that the recording functionality seems mighty impressive to us, with the XL1 able to automatically and sequentially record up to 200 audio CDs from the media changer to the hard drive.
Users can also record a series of television show episodes to the hard drive, and transfer them to blank DVDs stored in the changer
Beating in the heart of the XL1 A/V system is a powerful PC boasting an Intel Pentium D dual-core processor, half a gig of DDR2 memory, PCI-E graphics and space for up to three SATA hard drives (RAID ready).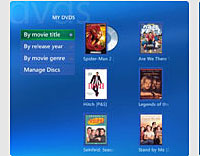 To ensure that your late night listening pleasure isn't spoilt by the sound of a mass of Boeing 747-like fans starting up, the XL1 system uses liquid-cooled components for quiet operation.
The Digital Living System will be sold as a package and will be available next month for about US$2,300 (~£1,300, ~€1,930).