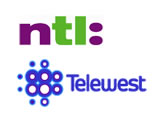 NTL, UK Cable provider, has announced a quad-play offering for £40.
The '4 for £40' service (with the inevitable Virgin-inspired foreplay joke to come) is the first product of the tie-up between Virgin Mobile and NTL.
As we've reported extensively, all of the communication world is bringing out packages that bring together various elements of communication as mobile phone companies get together with fixed-line broadband providers. The additional part with the NTL deal is the Digital TV.
The '4 for £40' package includes:
Broadband
Up to 2Mb with no limits on downloads
Firewall and anti-virus software included
Installed by an expert and modem included
Digital TV
Over 30 channels, including Sky One, UKTV Gold, E4, Film4, ITV2 and LIVINGtv
On demand access to a huge library of programmes and films – watch what you want, when you want
Set-top box included and no need for a dish
Home phone
Unlimited weekend calls to any UK landline
Highly competitive mobile rates and simple tariffs at other times
Standard features including 1471 and 1571 voicemail
Mobile
A Virgin Mobile SIM
300 texts and 300 minutes a month, plus free voicemail
Access to Virgin Mobile Bites entertainment service
One interesting feature is that the broadband offered is unlimited, which is bound to appeal to the tech savvy.
Bigging the service up and attempting to create extra excitement for the future, Neil Berkett, chief operating officer of ntl Telewest, enthused: "Quadplay demonstrates the unique power of the cable-Virgin Mobile union and this is just the beginning. Our new package represents unbeatable value while meeting a wide range of consumers' entertainment and communication needs.
Current subscribers to NTL won't be left out in the cold, they'll be able to take advantage of the new service for an additional £10/month on top of their current packages.
NTL. (Strangely for such a big launch, the NTL site hasn't been updated with details of the 4 for £40, at the time of publishing.)