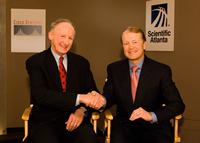 Convergence took a step forward Friday past as Cisco announced the takeover of Scientific Atlanta (SA). The price? $6.9 billion cash.
SA shareholders don't get a big premium (around 4%). The markets had already priced the shares to allow for a takeover talk, of which has been ongoing for some time – Sony being rumoured as one of the prospective suitors. Conversely, Cisco stockholders aren't too enthused with the takeover, and see the cable business as riskier than the high margin routers that have been Cisco's cash cows.

The acquisition looks a good fit though, Cisco are keen to push their IPTV proposition, SA's strength in the US set-top-box market (they have around 40% market share) will allow them to capitalise on the access to the home that video brings. The companies' combined news release majors on this, John Chambers, president and chief executive officer of Cisco Systems said "Video is emerging as the key strategic application in the service provider triple play bundle of consumer entertainment, communication and online services."
The release also notes that the coming together of the two companies "creates a world class, end-to-end triple play solution for carrier networks and the digital home"

Formed in 1951, SA has long been a market leader in Cable TV, has a healthy balance sheet and already has one large IPTV customer in the shape of SBC Communications. The critical mass of SA as part of Cisco should help it win more.
Expect both Motorola (SA's main US competitor) and Microsoft to consider how best to respond to this strategic move by the dominant Internet hardware backbone provider.