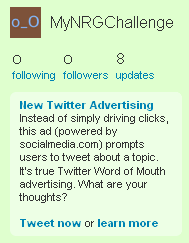 For a looooong time people have been wondering quite how Twitter is going to make money from this beast of a product that they have.
Looks like they've taken the plunge into advertising.
Today I logged on with a new account that I created yesterday, to see an advert placed in on the upper right hand side of the page.
You may have noticed that this space has before been used for giving you tips on how to Tweet better – and we thought a pre-cursor of where commercial ads would appear.