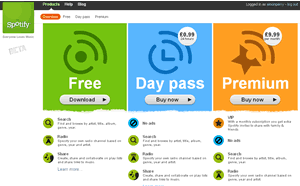 For a long time, one option for the music business to save themselves has been to offer an 'all you can eat' option for music – pay a monthly fee and listen to all of the music you fancy.
Initially resisted by the Music Biz like it was the devil's spawn, they're clearly more open to it, as that's exactly what Spotify is.
It's a player with more than a passing resemblance to iTunes — good idea, because some people don't like to think outside the limited experience — that uses Bit Torrent to pass tracks around, saving Spotify a ton of money on bandwidth.
It's been in Beta for an age and has just gone public offering pay-for accounts.
Big thanks to Amo for bringing it to our attention and sorting out us an invite.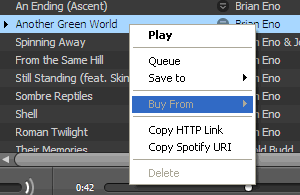 Loads of music
We put living music deity, 'Brian Eno' into the search and found 250 songs on the service! Any service with that many Eno songs has to be quality in our book.
Label support
There's some pretty big players fro the music biz, with Universal, Sony BMG, EMI, Warner music, Merlin and The Orchard to name but a few.
Three usage models
There's three ways that it can be used, Free (ad supported); Daily fee of 1€ / £1 / 9SEK; or Monthly fee at 9.9€ / £9.90 / 99SEK.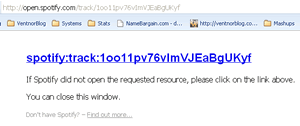 Ad supported
Visual ads don't really work for a music player, as you drop the music player into the background and the adverts would never be seen. Spotify are using audio ads. In the short amount of time we've been using it, we've heard an advert for Xbox. They're not too regular, so it doesn't get on your nerves.
Sharable URIs
If you come across a track that you'd like to share with someone else there're two ways to do it – an HTTP URL and a Spotify URI.
So, if I really wanted you to hear the track that they used as the theme music for the old BBC2 TV show, Arena, I could send you the follow link
http://open.spotify.com/track/1juykmcxZFyBh2mcUuA0Mw.
Buyable tracks
We see that there's an option, to buy tracks from an online service. We've found a few pointing to iTunes, but suspect that the record labels would be more than happy for this to be opened up to the competition.

Radio service
The radio service has a pretty novel interface, the decades that the tracks are to be selected from are selectable, as are the music types.
From this basic information a stream of tracks are picked for you by Spotify – neat.
Summary
Wow, this is some polished service. Clearly the year plus that it's been in beta has been well spent.
It's got a ton of tracks; from what we've seen, it works flawlessly and has a number of ways to get using it straight away.
Highly impressive. iTunes needs to worry.
Score: 91%