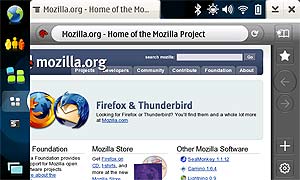 An alpha version of the long awaited Mobile Firefox browser is expected to be released soon.
According to Mozilla Foundation had honcho John Lilly, the alpha version (currently code-named Fennec) will be let out of its cage in next few weeks with brave, nay, reckless, foolhardy and heedless users invited to install the no doubt bug-laden alpha creation on their handhelds.
The result of over a year's work, the tabbed browser will be available for at least two mobile operating systems, Nokia N8×0 and most probably Windows Mobile.
Let's hope it lives up to Lilly's goals: "We want to make sure that the Web on mobile is more like the Web than what the mobile industry offers today, which is closed, separate networks, and not a very good information-getting experience for the user. The first thing is to bring Firefox to mobile devices." The full version isn't expected until 2009.
BlackBerry iPhone-like App Store Prepped
Details and screenshots of the Research in Motion's (RIM) BlackBerry Application Centre have been leaking on to the web.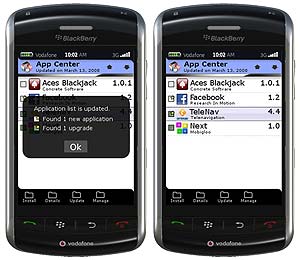 Set to coincide with the launch of their new BlackBerry Storm/Thunder smartphone, the service will only be compatible with the new handsets and the 4.7 version of the BlackBerry operating system.
Very much styled on Apple's iTunes App Store, the BlackBerry version offers viewable descriptions of apps with one-click downloads of handset-specific applications.
The Crackberry site offers more details of the key features of the BlackBerry Application Centre:
* The Application Centre will be available on 4.7 Storm devices and will be designed for the Storm touch screen UI.
* Carriers will be responsible for hosting the application data and sending updates to the directory to RIM.
* The main application screen will provide the user with a list of all applications that are available for install from the particular carrier for the specific device model and OS version. Incompatible applications will not be displayed.
* The main screen will provide the user the ability to quickly browse the application list, then view the available information about each application in a detailed description screen which shows the logo and full description. Installation will occur with one click (launches the web browser).
* The user will be able to access the Options > Applications screen from within the App Centre (allowing the user to delete applications directly from within the App Centre).
* The user will be provided with various status info: date the app list was most recently updated; notification that updates are available; option to reapplication list was completed, etc.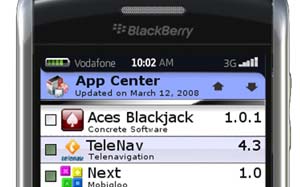 * Since the download and installation will be handled by the browser in this first release, the Application Centre will not be capable of restarting the application / download intelligently.
* The Application Centre will automatically check for updates daily.