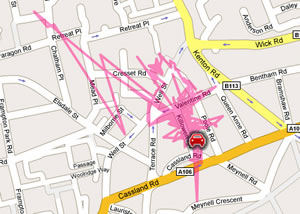 We love daft uses of technology – that's one of the reasons we've been enthusiastic supporters of DorkBot for so long.
The latest that's sprung onto our radar is people using small GPS devices to track the movement of their cats.
There're two views of the cat – they're either lovely, devoted friends to wo/mankind, or selfish parasites who chomp your food and disappear.
Where they disappear to has long been a mystery – and frankly, who could be bothered with following them anyway?
Now by strapping said GPS device to the little kitty back using a feline-friendly harness, all can be revealed.
Tech-tastic Alex Lee has done this and posted his cat's overnight meanderings, which even if you're not a cat-fan, makes interesting viewing.
Rather than just hanging in the back garden, his puss was all over the 'hood, going as far as, by rough estimates, up to 2000 feet away from home.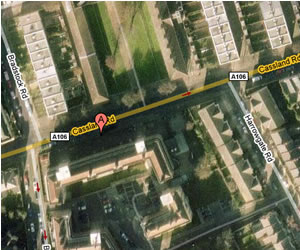 The furry one also took it's life in it's hands paws (well it has got nine to play with, hasn't it) and crossed the Cassland Road otherwise know as the A106, to what looks like a very specific destination.
Reading Alex's Twitter feed, we can also see that there was large pauses in transmission, where it's assumed the cat was lazing around in other people's houses, where satellites could not be tracked.
Image: Alex Lee