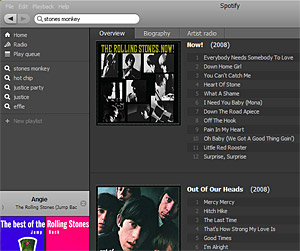 First mentioned on Digital Lifestyles back in October 2008, the music playing Spotify app has impressed us so much that it's become a regular feature in the office.
In case you've forgotten already, let us refresh you about what the program does: Spotify serves up instant, legal access to millions of tracks completely free of charge via an interface every bit as slick as iTunes.
Acting like a supercharged media player offering more songs than you could ever hope to fit on your own hard drive, the service offers a huge range of songs from a wide variety of artists, including big names like Madonna, U2, Coldplay, Eminem, Green Day and Stevie Wonder (although the Beatles are unsurprisingly nowhere to be seen).
Big boy labels like Universal, Sony BMG, EMI, Warner music, Merlin and The Orchard have all signed up, so the coverage is pretty comprehensive.
Looking for artists
You can search for artists and instantly get to play their biggest hits (great for checking out unfamiliar artists) , select individual tracks or listen to entire albums, while reading bio information or maybe checking out similar artists.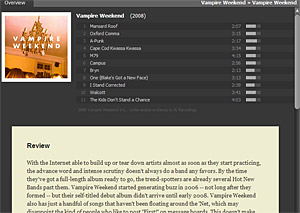 Incredibly, there's no buffering – as soon as you press play the song starts and if you fast forward to half way through the song, it plays immediately with no lag. Very impressive – in fact, it's even easier than reaching out to play your own CD.
The software lets you search and browse by artist, title, album, genre, year; specify your own radio channel based on genre, year and artist; and create, share and collaborate on play lists and share links to music.
This means you can browse charts of the most popular tracks and artists in all countries currently served by Spotify, or you can check out spotifyfriends.com to peruse other users' playlists (listed by rating, popularity, mood and genre) and click to hear them played back on your machine.
Theres also an an option to buy (some) tracks from iTunes, although we'd like to see a wider range of vendor options available.
The catch
Naturally, you're waiting for the catch, and there is one, albeit a minor one.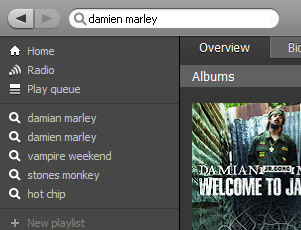 The free version of Spotify is supported by advertising, which means that every 20-25 minutes or so you'll hear a short advert. Compared to the inane product-shifting cack that spews forth from most commercial radio stations, we found these adverts to be fairly unobtrusive (at least for now).
However, if you can't bear your music mojo being interrupted by blathering voice-overs, you can fork out a tenner a month (or £100 a year) to become a premium member and enjoy ad-free listening, or pay £0.99 for a day's pass.
The service is currently in beta, with limited sign up places, but if you're quick you should be able to register here: spotify.com. Get in there!
Future plans
We wrote to Spotify to ask them when the program might be coming out of beta, what other countries they hoped to serve and whether they might be offering a mobile version in the future, and we got an answer so tight-lipped that Clive the Clenched Clam with Constipation would have been impressed.