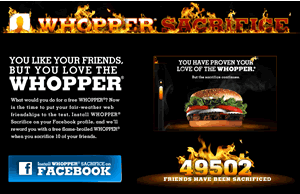 Burger King has releases a rather strange Facebook App – Whopper Sacrifice.
In exchange for you un-friending (burning) your Facebook 'friends,' it gives you credit towards a Whopper. Burn ten and they'll give you a burger in the US.
Not sure what type of message this sends out. Is it, be nasty to your friends, dump them and we'll reward you?; or are they helping people realise that the people that they call friends on Facebook are nothing of the sort?; or actually helping people get real and only connect to true friends?
Not sure, but given Crispin Porter + Bogusky are behind it (the domain is registered on their behalf), it's highly likely to be popular, given the success for their past work – heck they're even trying to make Microsoft popular.
Watch the vid below that Mike Monteiro has put together showing how it works ….
Whopper Sacrifice Facebook App