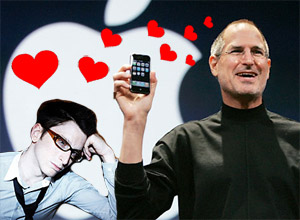 In what looks like a truly desperate piece of attention-seeking, some bloke called Gary Go (we suspect that's not his real name) has said he'll be going onstage with his iPhone during a series of support slots at Wembley.
The solo singer is due to support the well-ripened boy man band Take That in the summer, and claims to have written some songs using the virtual four-track studio iPhone application.
With some synergetic Apple retail store appearances already under his belt, Go was quick to praises the iPhone's musical abilities: "For songwriters it's an amazing tool as I always have it with me".
Gushing to the Evening Standard, Go dribbled, "I think it's pretty amazing that I'm going to be using a mobile phone on stage at Wembley Stadium in front of so many people," before adding a note of caution, "My biggest worry is that my phone will ring mid-song."
Sounds like Go was so awestruck by the iPhone's abilities that he's failed to learn how to turn the phone off. Silly boy.
T-Mobile Flashmobzzzz
Elsewhere, the next 'hilarious' event featuring T-Mobile's 'spontaneous' rip off of the equally dreadful and already well-seasoned Flashmob craze is set to happen at Trafalgar Square at the end of April.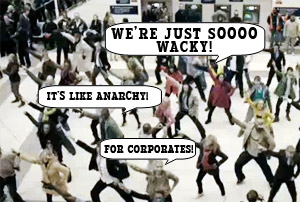 If you want to help a multinational brand promote their products, get paid nothing in return and make an arse of yourself in the process, rush yourself down to the square on Thursday 30 April at 6pm. And be sure to tell all your friends about how kerrrrayzee it all was afterwards!
Alternatively, if you want to get involved in something a little more meaningful, original and fun that doesn't involve helping a multinational corporate shift product, check out what the genuinely interesting Spacehijackers are up to (their last high jinx saw them being arrested for driving a DIY tank to the G20 protests).