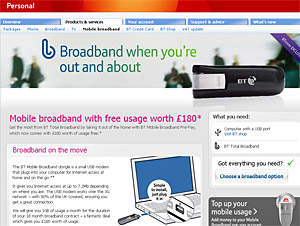 They've certainly taken their time getting around to it, but BT has finally entered the consumer mobile broadband market with the launch of a new pre-pay service for new and existing customers.
For a one off charge of fifty quid, customers on BT Total Broadband options 1 or 2 can add mobile broadband to their service, while those on the premium option 3 package can get the mobile broadband dongle for just a tenner with no additional mobile charges other than what they're already paying on their home broadband contract.
Customers signing up to the service are given an 18-month contract with a monthly data cap of 1GB. Go over that, and the BT crew will slap you viciously around the face with a wet fish, punishing you to the tune of £10 per extra GB or £15 for going 3GB over the limit.
However, the deal sees BT customers also getting at least 250 minutes a month on the company's nationwide Wi-Fi network which is accessible through the dongle.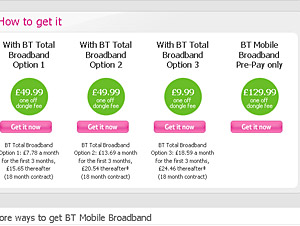 For non-BT customers, the deal works out at £130 for a standalone mobile broadband dongle on an 18-month contract, restricted to 1GB of data per month.
BT reckon that all this adds up to the cheapest home and mobile broadband package in the country, with the mobile network based on the Vodafone network, which offers support for HSDPA downloads of up to 7.2Mbits/sec.
That sounds mighty fast, but Vodafone have admitted the real world speed is likely to be a lot lower, and be somewhere between 1Mbits/sec and 5Mbits/sec.
Here's how the deals break down:
With BT Total Broadband Option 1
£49.99 one off dongle fee
BT Total Broadband Option 1:
£7.78 a month for the first 3 months, £15.65 thereafter
(18 month contract)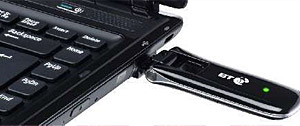 With BT Total Broadband Option 2
£49.99 one off dongle fee
BT Total Broadband Option 2:
£13.69 a month for the first 3 months, £20.54 thereafter
(18 month contract)
With BT Total Broadband Option 3
£9.99 one off dongle fee
BT Total Broadband Option 3:
£18.59 a month for the first 3 months, £24.46 thereafter
(18 month contract)