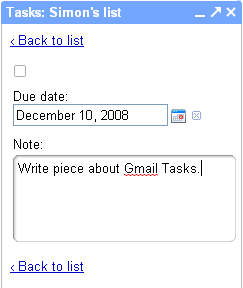 In a further step to make Gmail as invaluable as possible to peoples lives, Google has released an add-on for gmail to help you handle your tasks.
Released via Google Mail Labs, the app is fairly simple, letting you plug in the tasks you have to complete and when they have to be done by – but of course!
As was pointed out on Twitter by Psychemedia, Google knowing what you need to get done is fantastic for their adsense advertising opportunities.
It's highly arguable that no piece of information could be more valuable to Google that what your plans / tasks / desire are.
In the world of services driven by advertising in exchange for online services, this stuff is gold dust.
We'd imagine that Google will be smart enough not to place ads related to your todo list directly next to the list, as that could well freak people out. Don't forget that as soon as Google know this info about you, they can place the adverts where ever and when ever they feel like.
Good promotion for Google Labs too
Another advantage of bringing in Tasks via Google Mail Labs is that those who have come across the Labs feature of Gmail get to play with the tools that are currently available.
Given it's a fairly open programming platform too, it gives the developers the idea that they too might be able to write a nifty little function or two.
Google gains massively as they and up with a better email system.