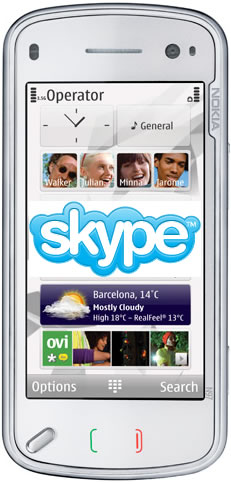 Big news for Skype and Nokia … and in turn mobile phone operators.
It's just announced that Skype will be integrated into Nokia handsets, starting in the 3rd quarter of 2009 with the N97.
As well as allowing Skype calls via 3G and WiFi, Skype to Skype calls will be free (excluding any data charges), we're also told that "low-cost Skype calls to landlines and mobile devices" will be allowed.
The surprise is that Skype contact details will be integrated into the handsets address book, showing the presence of the Skype user and enabling instant messaging.
Skype has previously had some success getting on to mobile phones, the most significant of which was the deal with 3, but this deal with Nokia is far more significant.
Good for mobile service providers?
As to how the mobile service providers will react to it is quite another matter.
If their subscribers are using data bundles, the operators aren't going to make any money from calls that are made over their networks, reducing them to providing the plumbing to enable it.