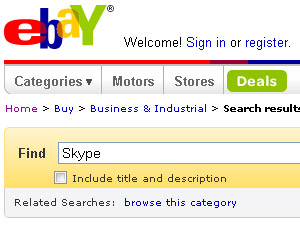 Speculation continues to grow that the Internet auction website eBay is preparing to flog off its VoIP telephony service, Skype.
The story sprang up after eBay head honcho John Donahue recently described Skype as a 'great stand-alone business,' sparking off a flurry of rumours about a possible sell off.
Donahue made the comment to analysts when discussing eBay's disappointing fourth-quarter which saw profits fall to $367 million, or 29 cents per share, a hefty drop down from $531million, or 39 cents per share, last year.
When asked what was being done by his company to add shareholder value in Skype, Donahue replied, "the synergies between Skype and the other parts of our portfolio are minimal. We're going to continue to run and operate the business. It's not a distraction currently. And at such time when we have further announcements on that, we'll let you know."
Ebay bought up Skype back in 2005 for $2.6 billion – a figure which they now admit was vastly overinflated.
However, Skype is proving a nice little earner, with revenues rising by 26% last quarter and the service having 405 million user accounts worldwide, with 30million subscribers being added every quarter.
Potential buyers for the service include US telcos AT&T and Verizon, although Google was rumoured to be interested in Skype as far back at November 2007.