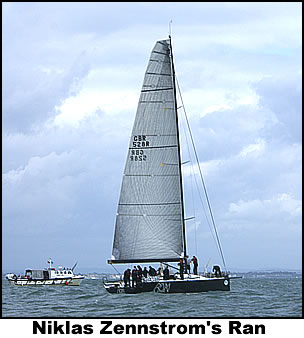 What do you do if you've sold your business for X billion dollars?
Well if you're Niklas Zennstrom of Skype and Kazza fame, you share a passion with other Tech billionaires, like Oracle's Larry Ellison – Sailing.
If you've got large bundles of cash in your pockets, you don't just get any old boat and hope that you might do quite well, you invest a ton of wonger and gather yourself a world-class crew.
The boat, a Transpac 52, was commissioned in 2006, designed by Reichel/Pugh, famed Yacht designers and runs under GBR 528R.
Getting a fantastic boat and a great crew doesn't always work of course, but for Zennstrom at Cowes last week, it did.
His boat, Ran, had won five of the seven races by Friday in the largest class racing at Cowes, the IRC Class Zero.
The wins, Saturday though to Tuesday, were met by a forth position on Wednesday and 2nd the following day, returning to top place on the Friday.
With the team in the position of winning by Friday and with the winds picking up on Saturday, Ran decided not to risk breaking the boat, pulling out of the race, returning to its berth at Hamble Yacht Services in Hampshire.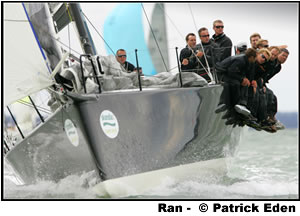 Ran is a large, imposing boat, but not the largest in its class. This award went to Alegre, which crossed the finishing line first every day, sometimes by you to 30 minutes before all the other boats.
As the Class Zero is a handicapped class, Alegre and its massive mast was knocked back to an overall fifth place.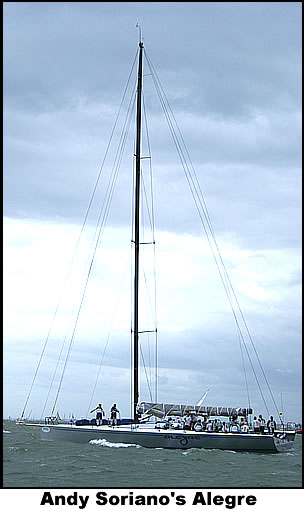 In a strange twist of fate, the second overall place was Rio, skippered by Charles Dunstone, of Carphone Warehouse fame.
Zennstrom must have had a smile on this face for once – again new telecoms beats old telecoms.
Cowes Class Zero racing results
Close up photo – Patrick Eden
Other photos – Isle of Wight News site, VentnorBlog
News via