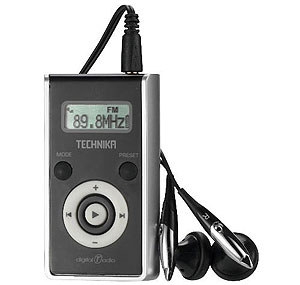 Supermarket giants Tesco will soon start offering shoppers the smallest and cheapest personal DAB Digital radio in town, the teensy weensy Technika DAB-108P.
Set to retail for £34.97, the midget-sized Technika measures up at just 6.9cm long by 3.8 cm wide and weighs in at a mere 52g.
The mini DAB tiddler claims to provide, "crystal clear listening for a huge range of FM and digital radio stations" and can automatically scan for available radio stations in the area.
Once the Technika has finished scanning, users can browse through a lost of available stations on the squinty little monochrome screen (which also displays icons for favourites, signal strength and volume) and save their favourite stations.
It's also possible to edit display options and change the sound settings to suit the music station selected (but no 'this one goes to 11' volume option for hard rock fans).
As well as the digital delights of DAB, there's an FM radio onboard and a headphone socket for plugging in the supplied headphones (we expect replacing them with a better pair might be a good investment).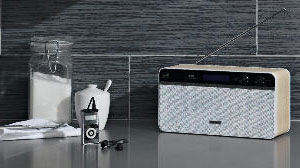 Although DAB radios are notoriously power-hungry, there's no mention of how long the Technika DAB-108P lasts on its 2xAAA batteries, although we reckon a decent battery charger might also prove useful if you're feeling the hots for this wee fella.
Sarah Butcher, Audio Buyer at Tesco, was ready and willing to engage 'product promotion' mode, commenting that the diminutive DABster was, "the latest in a long line of cutting-edge technology products from the Tesco Technika range, which we have been able to offer our customers at market-leading prices.
Butcher added: "As many Brits may be feeling the pinch at the moment, we're delighted to be stocking such a pocket-friendly, quality radio at such a pocket-friendly price."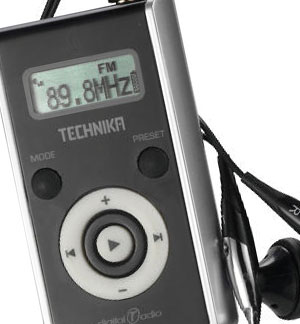 Specs
Battery Life: 2 x AAA (included)
Battery Type: Battery operated
Brand: Technika
Colour: Black
Features: Portable DAB/FM radio. DAB/FM RDS station name display. Icons for favourites, signal strength and volume.
Headphone Socket: Yes
LCD Display: Yes
Portable: Yes
Power Option: Battery operated
Product Depth: 2.4 cm
Product Finish: Portable DAB/FM radio
Product Height: 6.9 cm
Product Width: 3.8 cm
Tuner: DAB/FM
Type of Sound: Stereo
Watts: 1x10mW