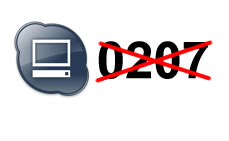 You'll remember the outcry when Skype forced many of their 0207 SkypeIn subscribers to change their phone numbers late last year, due to Skype changing their suppliers, following an increase in costs.
Many didn't take up Skype's offer to use new SkypeIn numbers, opting instead to transfer their SkypeIn number to another VoIP provider (we changed ours to VoIPFone).
We're getting reports of problems – and have experienced problems ourselves – of calls being incorrectly routed to Skype accounts when these number are called within Skype.

The Problem
In essence, it appears that Skype hasn't updated their internal routing tables to have the now-old 0207 numbers removed and have them routing externally instead.
So when Skype users are calling the now-old 0207 number using SkypeOut, the calls are still routed _within_ Skype, so the destination Skype software rings, rather than the now-external phone lines. Calling the same 0207 number from a landline correctly rings the external VoIP service.
We experienced this last week, but thought little of an external call coming in via Skype, past "that's a bit odd," until others told us of having the same issue.
We've carried out other tests today and can confirm that the problem does occur consistently.
If this does turn out to be down to Skype, it certainly won't do anything to endear them any further to those UK Skype subscribers who feel thoroughly mucked around by this whole process.
We contacted Skype for a comment, but at the time of publishing this article, they haven't come back to us yet.