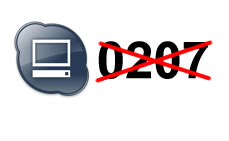 As you know, we – and a lot of other people – aren't impressed with Skype's plans to cut off many of their 0207 London SkypeIn customers.
We've been following this story up through various avenues, one being the company that provided the 0207 number to Skype in the first place.
We had an interview with Don McQueen, CEO of GCI Com who provided the 0207 numbers to Skype when they started the service 2-3 years ago.

He told us that as 0207 number are running short, many carriers are starting to charge for the 0207 numbers.
They have been in discussions with Skype for about year over the numbers, but talks broken down about two weeks ago when they couldn't come to an agreement.
McQueen tells us that without really finishing negotiations, Skype's reaction was just to return the numbers.
Shame On You Skype
What is terrible is that Skype have clearly made a commercial decision to sacrifice their 0207 customers for financial reasons – they didn't want to pay for the numbers.
It show a severe lack of business maturity and a clear total disregard for their customers – most of whom have been loyal Skype users and had their SkypeIn numbers since the services London launch 2-3 years ago.
We don't know what GCI Com was asking for the numbers, but frankly it doesn't matter. The damage this fiasco has done so far has seriously damaged Skype and their intention to become a serious business provider has become shredded – not just in London, but around the world.
Businesses can't deal with companies that pull the rug from under them with less than a months notice. Even BT – much disliked in the UK – gave businesses two years notice when they changed from 020 to 0207.
Skype – do the decent thing and get the numbers back – then your apology will be accepted.