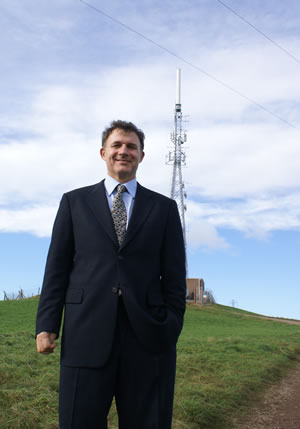 The boss of the organisation that is over-seeing the switch over from analogue to Digital TV in the UK, Ford Ennals, has announced that he is to step down in the new year.
He's been with the organisation since May 2005, when Digital UK was launched, but announces his departure just days after Whitehaven fully switched to Digital TV, back on 14 November.

We interviewed Ford on a windy hillside under the TV transmitter that was the first in the UK to switch off its analogue TV broadcast, near Whitehaven, back in October. He was pleasant enough, appeared knowledgeable on the subject and wove his way though our questions diplomatically.
In his letter to staff, he says that "Barry Cox [Digital UK Chairman] together with a selection committee from the DUK Board will be reviewing potential candidates for the DUK CEO role and will aim to make an appointment before my departure."
A spokesperson told us that Ford had worked in the US previously and enjoyed it. The offer from sportswear company Nike was too tempting not to take. He'll be president of Cole Haan, the group's footwear and leather goods division, after he leaves, which is expected in February.
A quick look at Cole Haan makes it clear that it's a very different business to digital switchover, selling among other things, crocodile shoes for over $1,000 which features "cushioning of NIKE AIR technology encapsulated in the heel."