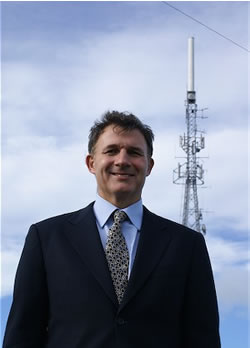 We caught up with Ford Ennals, Chief Exec of Digital UK, underneath the relay aerial that was going to be the first to switch off analogue and turn on digital TV – Digital switchover in Whitehaven.
He and his team have been spending huge amounts of time in Whitehaven to ensure the transition would be a smooth as possible.
Ford details how the process has gone to date and how, in particular, they've been working together with local voluntary organisations in an effort to get the message out to the public.
We touch on Sky's proposal for Digital TV service in the UK received through an aerial, rather than there current satellite based system; what does he see the relevance of MPEG-4 and HD services.
Audio after the jump

[audio:https://digital-lifestyles.info/media/audio/Ford-Ennals-CEO-Digital-UK-Whitehaven.mp3]
These on-the-spot reports were made possible by the use of USB 3G Modem, running on the Vodafone network.