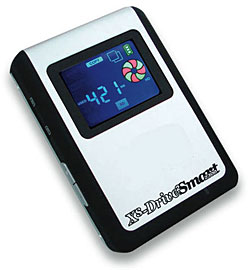 Although digital cameras and cheap memory cards are conspiring to make us take more and more photos, backing up those precious snaps when you're away from home can be a bit of a fiddly task, especially if you're shooting in the memory hungry RAW format.
For short trips, a couple of spare memory cards should be more than enough, but for longer jaunts, more versatile back up solutions are often needed.

We take a look at some of the storage options available.
Uploading from an Internet cafe
Perhaps the easiest method is to pop into the nearest web cafe, grab yourself a gallon jug of sangria and sit back while you back up your files online.
If you've got your own server space or are using services like the BT Digital vault, you could slap the card in the PC and FTP the files directly into a password protected directory (and hope that no one's keylogging the computer).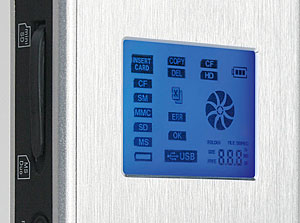 If you want to share the photos with faraway chums, the images could be uploaded straight to photo sharing sites like Flckr, or emailed home or elsewhere. Smaller sets of images can also be uploaded to free file storage sites – see a useful listing here.
You're likely to come unstuck if your webcafe is in the back end of beyond with a 14k modem for a connection, or if you've got a bulging bag of full memory cards.
Back up to a laptop
So long as you don't mind lugging the thing around on your happy hols, a laptop makes it easy to safely transfer your images at the end of the day.
Taking a laptop on the road means you can organise, tag and trim your images as needed, making it easy to remember what was taken where, although the extra bulk, battery life and 'nickability' are all factors to consider. Taking along a compact USB portable hard drive is also a handy way to add another, fairly cheap back up option.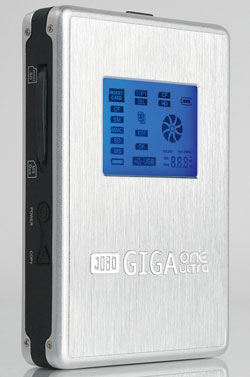 Portable storage devices ('digital wallets')
Many serious photographers use dedicated portable storage devices, in the shape of flash drives, larger capacity hard drive based units or dedicated DVD photo burners.
A couple of budget models
Once leg-crossingly expensive, prices have come down recently and there's loads of cheap, capable devices out – although you can expect a pretty basic performance with no frills. Be sure to check out the battery life on some of the cheaper models too.
Offering simpleton-proof, two-button operation (power on/off; copy), the Vosonic XS-Drive 2 Smart is a stylish, cheapo 40GB-160GB storage device with a fast USB 2.0 connection and a snazzy OLED panel. This displays the drive's working status, file transfer and battery power level (although you can't view the images or browse any folders).
Supporting CF, MicroDrive, MSDuo, MSPro, SD, miniSD, microSD, SDHC, MMC, MMC, xD – and a host of more obscure flash card formats – the Vosonic offers two hours of battery life, and usefully lets you delete copied files off the card before slapping it back into your digital camera.
Prices vary according to the GB storage, but the 60GB version can be found for around £80. Not bad.
Set to launch next month is the budget JoBo Giga One Ultra storage device. Coming in four hard disk capacities (40, 80, 120 and 200 GB) and boasting a claimed transfer rate of 1 GB per 3 mins, the USB 2.0 unit is wedged into a chunky aluminum case, has a 2″ LCD screen for status updates (but not for viewing images, sadly) and retails for around £105, £140, £160, and £230 respectively.
In the next instalment, we'll look at some mid-price and upmarket storage solutions, explain how you might be able to use your iPod for photo back up duties and give you our belt'n'braces approach.