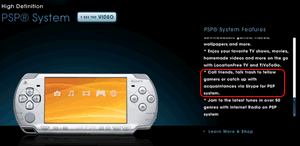 It looks like Sony will unveil Skype running on their PSP at CES, which starts in a few days.
Sony's CES site has details of the PSP's system feature including the key phrase …
"Call friends, trash talk to fellow gamers or catch up with acquaintances via Skype for PSP system."
We contacted Skype to get their official word on it, but they played shy, referring us instead to someone on the Playstation team – a pretty good indication we thought.

This isn't the first time that the PSP has been used for a VoIP handset. As we covered back in May 2007, BT offered a similar service, as did VoIP provider JAJAH back in April of the same year.